Proponuję odbudowę połączenia do stacji Góra Kalwaria Miasto, albo Góra Kalwaria Centrum.
Istniała ongiś stacja kolei dojazdowej usytuowana w centrum miasta. Pozwoliło to na rozwój miasta jako miasta satelickiego, umozliwiło wygodne dojazdy codzienne do Warszawy transportem zbiorowym. Obecnie jest to utrudnione, stacja znajduje si poza centrum i wymaga nadkładania drogi piechotą. Proponuję odbudowę połączenia do stacji Góra Kalwaria Miasto, lub Góra Kalwaria Centrum, tyle że innym przebiegiem torowiska, niż zlikwidowany odcinek torowiska do centrum miasta Góra Kalwaria. Jest on jeszcze zaznaczony na poniższej mapie, opr. na podst. Google Maps.

Całkowita likwidacja linii do centrum m. Góra Kalwaria nastąpiła w maju 1971 r., kiedy to zamknięto trasy od Piaseczna do Dworca Południowego, od Iwicznej do Wilanowa i od Piaseczna do Góry Kalwarii.

1971, 1 sierpień - Zamknięcie i likwidacja następujących linii: Dąbrówka - Iwiczna - Piaseczno, Wilanów - Iwiczna, Piaseczno - Góra Kalwaria Miasto.

Jak szacuję, odbudowa odcinka do centrum miasta poprawiłaby frekwencję i pozwoliłaby na zwiększenie częstotliwości kursowania poc. podmiejskich.

Fot. Obecne połączenie dowozowe.
Uważam że odbudowa odcinka do centrum miasta jest kluczowa dla powodzenia idei odbudowy Góry Kalwarii jako miasta satelickiego, jakim ongiś to miasto było.
Likwidacja korzystnie ulokowanego przystanku kolei podmiejskiej w centrum miasta utrudniło codzienne dojazdy. Ulokowana podmiejsko stacja kolei normalnotorowej sprawia że kolej jest mniej popularna niż mogłaby, przez co pociągu kursują znacznie rzadziej, niż mogłyby, gdyby odtworzono lokalizację głównej stacji kolejowej w centrum miasta, jak to pierwotnie miało miejsce.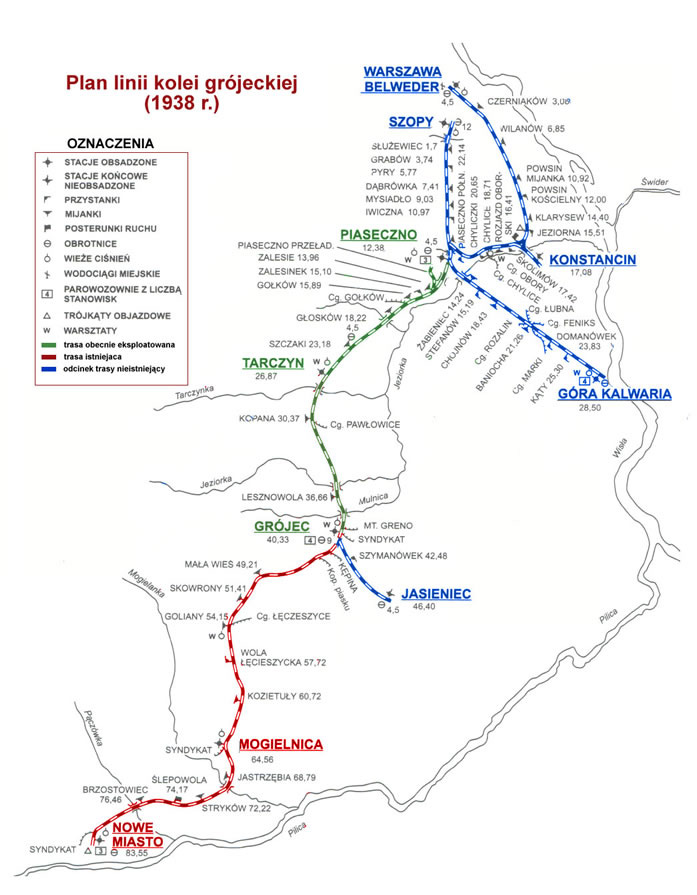 Czy kolej wróci na linię Warszawa- Góra Kalwaria- Góra Kalwaria Miasto?
Opisując temat wznowienia ruchu poc. pasażerskich do miejscowości Góra Kalwaria, myśleliśmy o odbudowie odcinka do śródmieścia tego miasta, jakie ongiś tu istniało. Wóczas mogłoby tutaj docierać po 1 parze połączeń na godzinę, ok. 15-16 par połączeń dziennie. Byłoby np. poranne połączenie do Warszawy p. G. Kalwarię i Piaseczno. Jeśli byłoby przyspieszone na części trasy, możliwy czas przejazdu to 1 godz. lub minimum 50 minut, przy ok. 30-minutowym czasie przejazdu do Piaseczna. W perspektywie kilku lat chcielibyśmy aby linia była obsługiwana w cyklu co 60 minut. Istnieje możl. przedłużenia kursów z Góry Kalwarii także do Osiecka i Pilawy, także obsługując stację Góra Kalwaria Miasto.
Po linii kursowały już pociągi pasażerskie. Miały absurdalną relację (ze Skierniewic do Pilawy) i pomijały największy generator podróży na ten trasie- Warszawę. Pasażerowie chyba nawet nie mieli szans na przesiadkę do Warszawy. To był przykład nonsensu z gatunku kolei państwowej. Dopiero po utworzeniu Kolei Mazowieckich pojawiły się połączenia do Warszawy. Rozkład wygląda tak:
Rozkład
Góra Kalwaria:
5:33, 6:50, 6:53, 7:41, 8:06, 10:09, 15:15, 16:20, 18:49



Warszawa Wschodnia:



6:28, 7:28, 8:29, 14:28, 15:23,16:38, 17:28, 18:28,
Warszawa Śródmieście:

6:36, 7:36, 8:38, 14:36, 15:32,16:46, 17:36, 18:36,
Warszawa Służewiec:

6:54, 7:55, 9:09, 15:00, 15:50,17:07, 17:55, 18:57,

Rozkład Jazdy od 12.12.2010r.
Warszawa Śródmieście (przyjazd)

Warszawa Wschodnia (przyjazd)

Warszawa Wschodnia (odjazd)

Warszawa Śródmieście (odjazd)

Warszawa Służewiec (odjazd)
C -
Kursuje również w soboty i niedziele.
Połączenie - pociąg o 6:53

Cena bilety do stacji PKP

Ratusz

(

przystanek dla wysiadających naprzeciwko baru chińskiego

)
"
Mszczonów to stacja kolejowa położona na linii nr 12 Skierniewice – Łuków. ... Korzysta z niej międzynarodowy pociąg pośpieszny "Vltava", relacji Moskwa "
Osiec
Stacja kolejowa Polskich Kolei Państwowych w Osiecku, w województwie mazowieckim, w Polsce, jest nieczynna dla ruchu pasażerskiego. Przez stację przechodzi linia kolejowa:
D29-12 Skierniewice - Łuków
Jak wynika po zbadaniu sprawy, aby pociągi przez Osieck były opłacałne, powinny one kursować:
- w dłuższej relacji z Warszawy do Dęblina p. Piaseczno, Górę Kalwarię, Osieck, Pilawę
- na części trasy być poc. osobowymi przyspieszonymi, albo na całej trasie
- czas przejazdu całej relacji pociągu powinien być konkurencyjny wobec innych połączeń.
Początkowo proponujemy 3 takie połączenia dziennie. Prawdopodobna relacja:
Warszawa Zachodnia
kilka stacji podmiejskich
Piaseczno
Góra Kalwaria
Osieck
Pilawa
Dęblin
(Lublin)
Być może zamiast ezt- jednostki z napędem elektrycznym, mały spalinowy autobus szynowy byłby bardziej odpowiedni do obsługi linii kolejowej p. Osieck. Połączenia kursowały, ale były wycofane. Brak było optymalnych godzin odjazdu? 4,55 rano to chyba jakaś pomyłka, a taka godzina widniała na jednym z rozkładów jakie zebraliśmy.